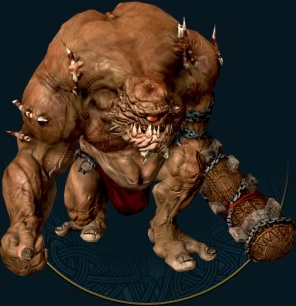 Cyclops are the Goblins' opposites. They too were a "failure" in the Orc experiment, but because they were born from the blood of major demons. The demonic part of their blood took over, and they became monstrous giants, body and mind twisted by chaotic surges.
Cyclops often measure more than 10 feet tall, and they definitely look more demonic than human. A curious trait they all share is that they have only one eye: a large, pupil-less disc, red and glowing. No one knows for sure the cause of this mutation, but a popular wizard theory claims that it is the "mark of Chaos", a symbol of the Dragon-snake Urgash, coiled in a circle, eating its own tail. A select few among them can intuitively channel chaotic magic through this "Evil Eye" to incinerate their enemies from a distance.
Though they are by nature calm with a child-like simplicity, when they are hurt (physically or emotionally), they develop an explosive and terrifying rage. This makes them dangerous to everyone, their own kind included. While many factions would love to harness their power, only the Orcs have the strength, patience, and courage to "tame" them and give them a place in their villages as tireless workers, and on the battlefield as heavy shock troops and "siege engines".
Cyclops Stats:
Edit
Name
Cyclops
Might Defense
26
Size
2
Magic Defense
24
Attack Type
Might
Hitpoints
330
Damage
57-64
Morale
6
Basic Growth
1
Initiative
35
Upgrade Growth
1
Movement
8
Max Growth
5
Movement Type
walker
Luck
7
Range
none
Passive Abilities
Sunder, Impervious to Pain
Active Abilities
Slam
Generic Abilities
Living, Demonic Lineage
Enraged Cyclops Stats:
Edit
Name
Enraged Cyclops
Might Defense
26
Size
2
Magic Defense
24
Attack Type
Might
Hitpoints
350
Damage
57-64
Morale
6
Basic Growth
1
Initiative
40
Upgrade Growth
1
Movement
8
Max Growth
5
Movement Type
walker
Luck
7
Range
none
Passive Abilities
Sunder, Impervious to Pain, Burning Rage
Active Abilities
Mighty Slam
Generic Abilities
Living, Demonic Lineage
Ability Descriptions:
Edit