Ad blocker interference detected!
Wikia is a free-to-use site that makes money from advertising. We have a modified experience for viewers using ad blockers

Wikia is not accessible if you've made further modifications. Remove the custom ad blocker rule(s) and the page will load as expected.
The elementals are manifestations of the primal forces of Ashan. While the wizards of the Seven Cities can create and tame these beings, they also can form spontaneously during major natural events such as lightning storms and also near nodes of chaotic magic.
Air Elemental Stats:
Edit
Name
Air Elemental
Might Defense
17
Size
2
Magic Defense
13
Attack Type
Air
Hitpoints
75
Damage
13-13
Morale
7
Basic Growth
2
Initiative
50
Upgrade Growth
2
Movement
6
Max Growth
7
Movement Type
Flyer, Hovering
Luck
7
Range
Full
Passive Abilities
Wind Shield, Lightning Strikes, Cyclone
Active Abilities
None
Generic Abilities
Living, Spirit Form, Elemental Immunity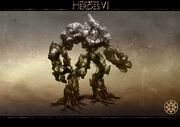 Earth Elemental Stats:
Edit
Name
Earth Elemental
Might Defense
18
Size
2
Magic Defense
18
Attack Type
Might
Hitpoints
100
Damage
15-16
Morale
7
Basic Growth
3
Initiative
40
Upgrade Growth
2
Movement
4
Max Growth
8
Movement Type
walker
Luck
6
Range
none
Passive Abilities
Regeneration
Active Abilities
Petrification
Generic Abilities
Living, Spirit Form, Elemental Immunity
Fire Elemental Stats:
Edit
Name
Fire Elemental
Might Defense
13
Size
1
Magic Defense
14
Attack Type
Fire
Hitpoints
80
Damage
16-18
Morale
10
Basic Growth
3
Initiative
40
Upgrade Growth
2
Movement
5
Max Growth
8
Movement Type
walker, Hovering
Luck
10
Range
Half
Passive Abilities
Cremation, Fire Ball
Active Abilities
None
Generic Abilities
Living, Spirit Form, Elemental Immunity
Light Elemental Stats:
Edit
Name
Light Elemental
Might Defense
10
Size
1
Magic Defense
17
Attack Type
Light
Hitpoints
75
Damage
14-17
Morale
7
Basic Growth
3
Initiative
50
Upgrade Growth
2
Movement
6
Max Growth
8
Movement Type
Teleporter, Hovering
Luck
10
Range
none
Passive Abilities
Salvation Halo, Epiphany
Active Abilities
Searing Light
Generic Abilities
Living, Spirit Form, Elemental Immunity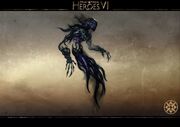 Shadow Elemental Stats:
Edit
Name
Shadow Elemental
Might Defense
10
Size
1
Magic Defense
13
Attack Type
Dark
Hitpoints
75
Damage
14-17
Morale
7
Basic Growth
4
Initiative
50
Upgrade Growth
2
Movement
6
Max Growth
9
Movement Type
Teleporter, Hovering
Luck
4
Range
none
Passive Abilities
Shadow Form, Weakening Grasp
Active Abilities
Shadow Strike
Generic Abilities
Living, Spirit Form, Elemental Immunity
Water Elemental Stats:
Edit
Name
Water Elemental
Might Defense
14
Size
1
Magic Defense
16
Attack Type
Water
Hitpoints
85
Damage
10-14
Morale
10
Basic Growth
4
Initiative
40
Upgrade Growth
2
Movement
5
Max Growth
9
Movement Type
walker
Luck
7
Range
none
Passive Abilities
Liquid Body, Water Strike
Active Abilities
Ice Bolt
Generic Abilities
Living, Amphibian, Spirit Form, Elemental Immunity
Ability Descriptions:
Edit