Ad blocker interference detected!
Wikia is a free-to-use site that makes money from advertising. We have a modified experience for viewers using ad blockers

Wikia is not accessible if you've made further modifications. Remove the custom ad blocker rule(s) and the page will load as expected.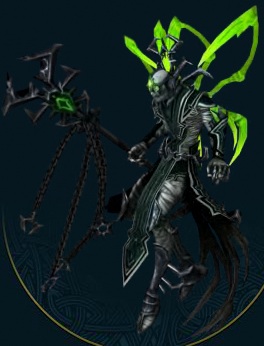 Higher ranking Necromancers (the priests of the Spider Goddess) are given a life-prolonging elixir that is "milked from the venom of the Goddess's sacred spiders, and that they must mix with their food.
This "treatment" turns them into Asakkus, or "Liches", their bodies desiccated but now freed from the passions of the flesh. They keep aging however, until they look little more than walking mummies… The venom mixture also colors their whole eyes bright green.
Lich Stats:
Edit
Name
Lich
Might Defense
12
Size
1
Magic Defense
11
Attack Type
Dark
Hitpoints
65
Damage
16-19
Morale
N/A
Basic Growth
3
Initiative
25
Upgrade Growth
2
Movement
4
Max Growth
8
Movement Type
walker, Hovering
Luck
6
Range
Full
Passive Abilities
Dark Embrace
Active Abilities
None
Generic Abilities
Undead, Emotionless, Vulnerability to Light
Archlich Stats:
Edit
Name
Archlich
Might Defense
15
Size
1
Magic Defense
13
Attack Type
Dark
Hitpoints
72
Damage
18-22
Morale
N/A
Basic Growth
3
Initiative
30
Upgrade Growth
2
Movement
4
Max Growth
8
Movement Type
walker, Hovering
Luck
6
Range
Full
Passive Abilities
Dark Embrace
Active Abilities
Life Drain
Generic Abilities
Undead, Emotionless, Vulnerability to Light
Ability Descriptions:
Edit