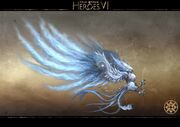 The phoenix are rare creatures of the wilds of Ashan. They have become a symbol for the rebirth of the world after strife.
Phoenix Stats:
Edit
Name
Phoenix
Might Defense
27
Size
2
Magic Defense
42
Attack Type
Prime
Hitpoints
220
Damage
55-63
Morale
7
Basic Growth
1
Initiative
55
Upgrade Growth
1
Movement
6
Max Growth
5
Movement Type
Flyer
Luck
10
Range
none
Passive Abilities
Death Ward, Moonfire Aura
Active Abilities
Rebirth
Generic Abilities
Living, Spirit Form
Ability Descriptions:
Edit
Ad blocker interference detected!
Wikia is a free-to-use site that makes money from advertising. We have a modified experience for viewers using ad blockers

Wikia is not accessible if you've made further modifications. Remove the custom ad blocker rule(s) and the page will load as expected.